Presents
Am./Int. CH Amate' Fly Me To The Moon RN OAP NJP
Sire: BISS CH Crescent O-Ee-Yah! Eoh-Ah
Dam: Goodtime's Oopsie Daisy CD RN WC CCA
Whelped: 7-10-06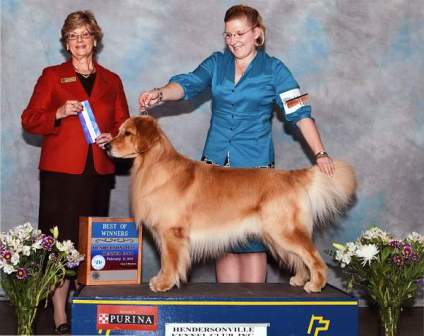 Buzzy is the Best of Winners Greenville, SC February 2010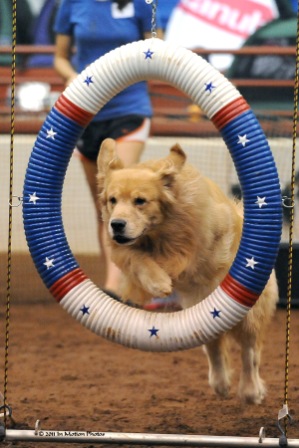 Agility Perry, GA 2011
Achievements:
Buzzy will be bred to Lanier's Saved By An Angel for New Years Day 2013 Puppies. If you are interested in being on the waiting list for a puppy, please email me at marygolddog@bellsouth.net. See the litter page for more information on this litter.
Buzzy is available at stud for approved bitches.
10-27-12 Buzzy got his first qualifying leg in Beginner Novice Obedience.
9-16-12 Buzzy got his Open Agility Preferred title. Now he is playing with the big boys in Excellent Agility. Mary is going to have to run faster.
7-28-12 Buzzy got his title in Novice Rally Obedience at the Greenville Show. On to Novice Obedience.
11-13-11 Buzzy got his Novice Agility Preferred title at the Marietta GA trial. On to Open Agility.
Fall 2011 – Buzzy is working on his Novice Agility Title. Buzzy competed in the GRCA National in Agility, Parade of Champions and Best of Breed. He is now competing in AKC agility.
10-1-11 Buzzy competed in Best of Breed at the GRCA National Specialty and made it until the final cut.
3-13-2010 In 3 weekends out with a handler, Buzzy has finished his Championship and is now Am./Int. CH Amate' Fly Me To The Moon.
2-6-2010 After his first weekend out with a handler, Buzzy is now major pointed toward his AKC championship. He won Best of Winners in the Atlanta shows over 24 dogs and 27 bitches for a 3 point major.
2nd weekend out with a handler, Buzzy is Best of Winners in Greenville, SC.
3rd weekend out with a handler, Buzzy is now a Champion. He won two other majors on Friday and Saturday in San Antonio, TX with handler, Jane Myers to finish his American Championship.
12-13-09 Buzzy won Best Bred By Exhibitor In Show at the International All Breed Canine Association Show in Atlanta under judges Don Jones and Lenora Riddle, handled by Mary. Buzzy is now International Champion Amate' Fly Me To The Moon.
Buzzy is a STAR! He was on Lifetime's show "Drop Dead Diva" on Sunday, July 26 playing David Beckham 2, a clone of a famous dog. Catherine also had a spot appearance as a handler taking a dog to the courtroom. See
http://dogwrangler.blogspot.com/ for comments made by the wrangler about Buzzy's appearance. See links page for a hotspot link to this blog.

Pedigree of "Am./Int. CH Amate' Fly Me To The Moon RN OAP NJP"

Parents
GrandParents
GreatGrandParents
SIRE

BISS CH Crescent O-Ee-Yah! Eoh-Ah     

Am. Ch. Daybreak Varsity Jump OS

  BISS Am./BIS Can./BIS Bda. CH Cherrybrook Touchstone JH WC SDHF OS
Can. Ch. Claircrest Daybreak Archetype
Ch. Goldenwind Hailstorm
BISS CH Goldstorm Moving Force BISS OS
CH Tempo's Joy To The World

DAM

Goodtime's Oopsie Daisy CD RN WC CCA

BIS BISS Am. CH. Goodtime's Best Case Scenario CD JH WC VCX OS SDHF
BIS BISS Am/Can CH Rush Hill's Haagen-Dazs CDX JH AX OAJ WCX VCX OS SDHF; Can. CD, WC
Am. CH. Gldn Lt Goodtime Happy Ending OD
CH Goodtime-Laurell Elizabeth Tale'r OD
Am. CH Laurell's Cause For Applause OS SDHF
Am. CH. Gldn Lt Goodtime Happy Ending OD
Gallery for Am./Int. CH Amate' Fly Me To The Moon RN OAP NJP
| | |
| --- | --- |
| | |
| Buzzy's First Show – Lawrenceville Kennel Club 2/4/2007 | Buzzy at the Sandlapper Golden Retriever Specialty Show 2007 |
| | |
| --- | --- |
| | |
| Buzzy at the Sandlapper Specialty Show | Buzzy wins Winners Dog at the Hilton Head Shows in March 2008 |
March 2008 has been a big month for Buzzy. Buzzy is now AKC Championship Pointed due to his win in Hilton Head. He also earned his Therapy Dogs International Certification to follow in the footsteps of Mom and Dad. We are looking forward to the Eastern Regional Golden Retriever Specialty Show in Perry, Georgia (April 13) and the Sandlapper Specialty Show in Camden, SC (April 26-27). We have high hopes for this beautiful boy.
| | |
| --- | --- |
| | |
| Baby Buzz | Buzzy wins the 9-12 month class at the Pittsburg Specialty Show 2007 |
| | |
| --- | --- |
| | |
| Buzzy is a therapy dog and a reading assistance dog. | Beautiful Boy!! 2008 |
| | |
| --- | --- |
| | |
| Buzzy now has his NAP and NJP agility titles. | Buzzy and Mary in Perry GA 2011 |