Litters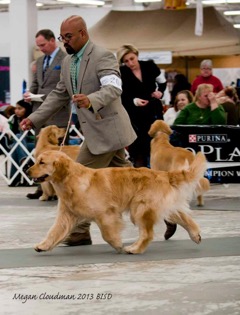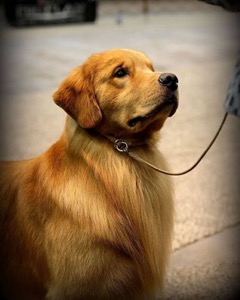 Abbey and Percy
Announcing the Ireland Litter – Puppies were born St. Patrick's Day 2015. These puppies are all spoken for.
Faith to uphold you,
Love to enfold you,
Laughter to light up each day…
Smiles on your faces,
Goodness and graces,
For all of these
Blessings, we Pray.
Irish Blessing
The parents are Abbey and Percy. Abbey is an AKC breed Champion and has multiple breed champions and performance titles in her pedigree. She is currently training in agility and field. Abbey has a wonderful temperament and is easily trained. She is very gentle and snuggly but also loves to run and jump and play. She loves to be with people and will follow you everywhere you go. Abbey weighs about 58 lbs. and is 22 inches tall at the shoulder. Percy is also an AKC breed Champion. Percy is a moderate boy and is 24 inches at the shoulder and weighs about 74 pounds. He has a sweet face and a beautiful coat that is easily maintained. He is lively and competitive, always at the ready. However, once inside, he is gentle, affectionate and laid back. He is smart and biddable with his humans and gets along well with other dogs. Both parents have wonderful temperaments and are easily trained. They both have clearances for hips, elbows, heart and eyes. Email me at marygolddog@bellsouth.net if you are interested in a puppy.
Puppies will have had one set of shots and have been wormed several times. You will receive a health record with your puppy which will give you the dates of shots and worming and recommendations for future healthcare. Both parents have hip, elbow, heart and eye clearances. Pets are sold on a limited registration, which means you can't breed them. I reserve the right to decide who receives one of my puppies. Finding the right home for each puppy is very important to me.
Our puppy package includes AKC registration papers, a 3 generation pedigree, photos of both parents, copies of the parents' clearances, feeding instructions and a puppy health record with recommendations.
Our puppies are raised in house and the entire family spends time loving and socializing them. We temperament test all of our puppies to help us match the perfect puppy to your family. The puppy is tested for trainability, dominance/submissiveness, ability to adjust to new surroundings and retrieving instinct. We use the results to choose your puppy to match your lifestyle.
We spend hours with the puppies watching and evaluating. Each puppy wears a different color collar so they can be tracked and evaluated constantly. We will ask you questions about your family, your lifestyle and plans for the puppy. This information will be used to choose the best puppy for your family and the best home for each puppy. This placement method has consistently proven to be the best for both the new owners and the puppies. The puppy that will be going with you to your child's soccer practice is just as important to me as the show puppies.
Our puppies are house pets that need to be part of the family. They need interaction with people and will not be happy or healthy in the back yard alone.
If you are interested in a puppy, please email me at marygolddog@bellsouth.net or call my cell at 678-984-3706. I am a teacher so please call after 4:30 pm. We look forward to hearing from you.
Pedigree of the litter.

Parents
GrandParents
GreatGrandParents
SIRE

CH Sandpiper's Pursuit of Happiness BISS     

 

BIS BISS Am GCH Rush Hill Run'n Amuck at Abelard OA OAJ AXP AJP NFP WC VCX SDHF OS

 Am CH Boitanos Band on the Run to Abelard OS
BIS BISS Am Can CH Goodtime's Run For The Roses SDHF OD
BISS CH Avalor Sandpiper Tickled Pink SDHF
BIS BISS Am CH Carrera Strike The Gold SDHF OS
CH Sandpiper's Extraordinhare

DAM

CH Goodtime's Amate' Good Day Sunshine

BIS BISS Am Can CH Goodtime's Best Case Scenario CD JH WC VCX OS SDHF
BIS BISS Am/Can CH Rush Hill's Haagen-Dazs CDX JH AX OAJ WCX VCX OS SDHF Can. CD WC
Am. CH Gldn Lt Goodtime Happy Ending OD
CH Goodtime's Aint Ms Bee-Havin' TDI CGC
BIS BISS Am CH Scion Oughta Be A Law NA NAJ OS SDHF CGC BISS
CH. Goodtime's Cassiopeia OD